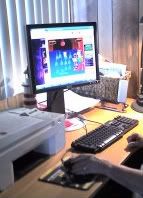 My grandmother had her first spin on a PC the other day. The motivation: online slot machines. First, I should tell you my grandmother loves the slot machines at Dover Downs. When her 80 year old friend told her she could play the slots online for free, my grandmother just had to try. So my mom set her up and here are a few things I overheard:

Grandmother: "I'm really having trouble with this mouse!"
"Can I just tape it down?"
"That's where I have trouble getting it down there."
"See I lost that thing again. get down there!"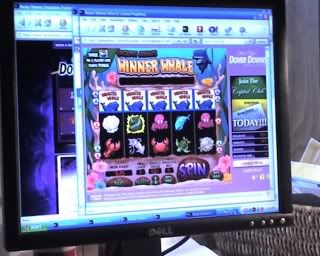 Then last night when she came over for dinner with my grandfather and her friend, the first thing she asked was to play on the computer. Here are a few more things I heard as she clicked away:

Grandmother: "I'm trying to get the hang of the mousy mousy"

"Oh, I have more trouble with this guy."

"I don't understand it, it's not doing anything."
Grandmother's 80 yr old friend: "Are you out of money?"

gm: "I don't know what I'm betting, but those credits go fast"

gm's f: " I don't know what you're betting either."

gm: "Now I lost it (mouse) completely."
gm's f: "Move it, you'll find it."

Now my mom will have to let her play everytime she comes over. Somehow I think that's all she'll ever learn online. So I won't hold my breath for an e-mail, though her 80 year old friend does e-mail me.

Stylishly yours,
Miss Attitude