So Tampa's first Flugtag was a lot of fun, but I gotta tell you 90+ degrees, alcoholic beverages and sleep-deprived week did not equal Gasparilla-like fun! There's a reason Tampa hosts Gasparilla in January. It's not this blazing hot! And speaking of hot. What the hell was this dude thinking?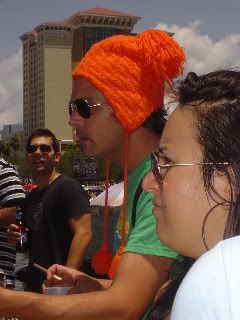 Not only was this hot ridiculous, it's not 9 degrees out, but he was a jackass on top of it. There was an older guy sitting in front of us who had an umbrella. You can see him below in the bottom left corner.




Umbrella man was trying to avoid getting too much sun (probably impossible) and hat boy went up to him a hard time. And told him to ditch the umbrella or go home. Now did get me wrong, people with their umbrellas were blocking the view. But all hat boy needed to do was go move. Instead he kept cursing and complaining about the stupid umbrellas.

Then there was this bunch who tried to beat the heat in an unintelligent way.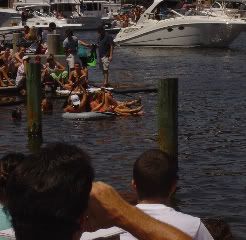 I'm surprised they didn't drown! Oh and the Coast Guard crew kind of frowned upon it. So at the start of the event the parachutists, if that's what they're called, propelled down to the FlugTag staging area.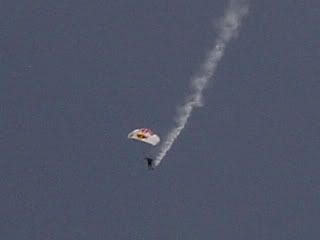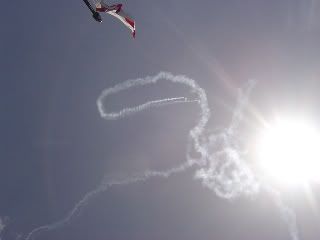 I also tried to take some pictures of the crazy contraptions trying to take flight, but my camera doesn't have quite enough zoom and we weren't right up front.




It was kind of crazy, only the first flying machine actually seemed to take flight going more than 100 feet. And then some of them, like this one went less than 20 feet.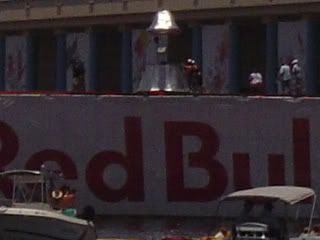 So the heat got to be too much. We were all sweating like pigs, I know, not pretty! After a couple of hours, I went inside my condo for a bathroom break and to sit in the AC for a few minutes with one of my friends. Then, a few minutes later more of the gang came in and we wound up watching the rest of the competition on TV. At one point, I thought we might be kind of lame watching it inside when we were just feet away from the event. But hey, it was too Flugtag'n hot out there!

Stylishly yours,
Miss Attitude