I am so relieved it's finally Friday. This has been an extremely long and exhausting week as promised.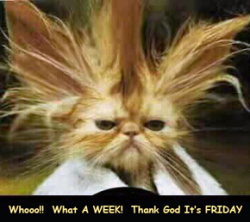 I know I've seen this pic on several other blogs, but it makes me smile and boy do I need to do that! I've had a very productive week. I just can't help but laugh at how it's always all or nothing with me. I went from being unemployed and bored out of my mind to working more than 50 hours this week. Not to mention a crazy sleeping (or lack thereof) schedule and teaching my first college class! Overall, I'd say it's been a success. So after a nap tomorrow, it may just be time to celebrate.


And speaking of celebrating. Today, 7-11, is 7-11's 81st birthday. The company is celebrating with free Slurpees.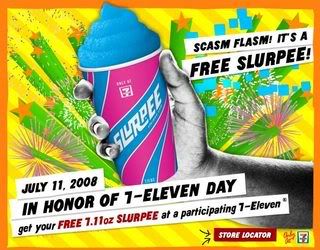 I hadn't had one in years, but had one at the beach a couple weeks ago and it was such a refreshing treat. Free makes it even better! (BTW-- did you know Slurpee has its own MySpace profile?)

Stylishly yours,
Miss Attitude