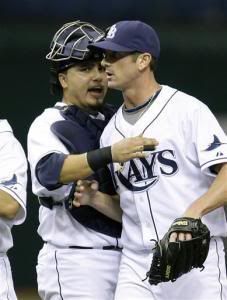 (AP Photo/Chris O'Meara)

Tampa Bay fans brought the brooms and their team spirit. And the Rays did not disappoint. When the hometown team swept the Boston Red Sox with a 7-6 victory, the fans left Tropicana Field with the excitement of a playoff win. Let's face it, it's a nice feeling to be in first place AND beat the Red Sox three games in a row.

I actually wound up watching the game at Ferg's with my friends because we couldn't get tickets to the game. Well, we could have paid $50 a ticket, NOT! We made a last minute call to go, despite hearing it had been sold out. I thought for sure that was just hype. But, it wasn't. I'm not complaining though, I just love seeing the fans this excited.

It's amazing to watch a team go from having the worst record in the league last year, to the best this year. Plus, my neighbor pitched. Oh yeah, Scott Kazmir lives in my condo building. Okay, I still haven't run into him yet. But some of my friends who live here see him all the time! Then there's Rookie Evan Longoria, he was on fire with three runs. And of course, B.J. Upton who made an amazing catch in center field in the ninth inning which helped hold off the Red Sox.

And some fans had to work, but they still came out to celebrate as everyone left the Trop.




We passed these three firefighters with their brooms on our way out of downtown. Go Rays! I see playoffs in our future.

Stylishly yours,
Miss Attitude